Professional Hunting Dog Training in Minnesota
Granite Ledge Kennels-Milaca, MN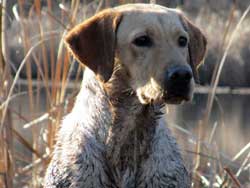 Welcome to Granite Ledge Kennels where our goal is to provide you with a dog that is a pleasure to have in the field and your home.
We are a professional hunting dog trainer and and breeder of Labrador Retrievers, Pudelpointers and Gordon Setters.
Granite Ledge Kennels has 180 acres of training grounds with ponds to meet your dogs training needs. The trainer can give total concentration to the dog in an environment that is ideal for training.
We are located in Milaca, Minnesota, just off of Highway 169, northwest of the Twin Cities.