Professional Hunting Dog Training
Training Programs Offered By Granite Ledge Kennels
 Basic Obedience Training To Advance Hunt Training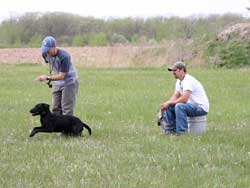 Granite Ledge Kennels offers a full range of training options from basic obedience training to advanced hunt training. All dogs learn at their own pace. We take special attention to each dog. We take great pride in creating a positive learning atmosphere for your dog.
All of our prices include boarding. Vaccination shots must be up-to-date. All dogs must be vaccinated against Bordetella. Please bring your pet's complete shot record along with you.
Before your dog goes home Chris will provide you with individual instruction on the proper training techniques and how to handle your newly trained dog.
Our Training Programs:
If you have any questions on our professional hunting dog training programs, please contact us!