About Granite Ledge Kennels
Professional Hunting Dog Training In MN
Specializing in Pudelpointer & Labrador Training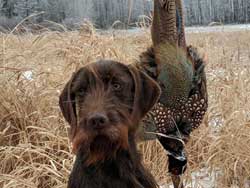 Welcome to Granite Ledge Kennels!  Granite Ledge Kennels is a professional hunting dog training facility located just outside of Milaca, MN.
Our goal is to provide you with a professional trained hunting dog that is a pleasure to have in the field or your home. We have 180 acres of diverse training grounds, complete with ponds, native grasses and trees to meet your gun dogs training needs.
The trainer can give total concentration to the dog in an environment that is ideal for training. Our kennels have large indoor runs that are heated and cooled. The kennel has a large exercise area that is fenced-in and gives your dog freedom during training.
As an avid hunter, Chris Wilson has always had a great interest in hunting dogs. This dates back to the first dog his grandpa gave him. This led to a full time professional career as a gun dog trainer.
Chris has trained and qualified numerous dogs through to their Master Hunter titles. Chris's main focus as a trainer is to provide the owner with a dog who is a pleasure both in your home and in the field. Chris specializes in training retriever hunting dogs and gun dogs.